Hello Novelists, Poets, Lyricists, Playwrights and all manner of Authors.
Welcome to the
Word Weaver Award.
Each month a piece of work/passage of writing will be selected from among the work displayed in Writersmerge*.
This piece will then become the 'Featured Writing' for the month. It will be highlighted in this thread and the Author will be provided with an award, which can be placed in the persons signature should they so wish it.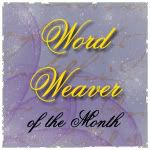 ALSO
The Author's name and piece will be published in the Moonwatcher, Ober.Net's monthly newsletter, in the Featured Writing section.
"Fill your paper with the breathings of your heart."
~William Wordsworth
We look forward to presenting work from our fabulous writers here on Obernewtyn.Net.
~Ariadne, MornirKirara and Deb~
*
Work may also be selected from Prodders, but no link to the work will be provided to the piece. (Due to the board being a members only board.)
Dec 08 Rakuran
Jan 09 Hannai
Feb 09 Deb
Mar 09 Elaria071
Apr 09 Avialle
May 09 Arwen
Jun 09 Maz
Jul 09 ---
Aug 09 Nef
Sep 09 Miky
Oct 09 Amashelle
Nov 09 Sian
Dec 09 Sionainn
2010 Word Weavers:
Jan: Shadowchild
Feb: Kaede
March: Dreamtraveller
Apr: Hannai
May: Fatality
June: Jelindel
July: Bibliophile
August: ThyCrow
September: Fantasy Lover
October: Fatality
November: Dakosha
December: Thalia
2011
January: Kaede and Fatality.
February: Larana
May; Thalia
June: Kaede
October: Nef
November: Dakosha
Decenber: Fatality
2012
January: Dargafleas
February; Kaylan R
March: Arwen
April: Nef
May: Bibliophile
June: Thalia