After a couple of requests about how I made this:
I figured I'd try to document / explain my derpy photoshop processes.
Get ready for epic! I'm sure there's easier ways to do this, so please bear this in mind when reading this tute. This is just how I've gotten from A to B.
Warning - lots of images in the below!
[ligne][/ligne]
Most of the digital art I do starts with a pre-existing photo. For example, for the Elspeth statue I found a nicely sized photo of the Mary Jemison Statue, at an angle that would work for me. For this tutorial I'm using an artistic looking flamenco dancer:
And turning it into a glass statue:
I always keep a copy of the original picture, too (in case I mess up my working copy so badly that I want to start again). Similarly, while I'm tweaking something I'll create a copy of a layer before I make a significant change. This means if the path I go down doesn't work, I can revert to a previously created layer with the old settings, that I was happy with.
This is important for this tutorial, as for glass you need to do a lot of highlight and shading effects and Photoshop will only undo so many times.
Step 1
Cut out your subject. Sure, you can faff about with the magic wand, to get rid of colours, but it depends on how much of which colour is behind your subject. I find I spend less time by giving it a precise once-over with the polygonal and rectangular lasso tools and then neatening it up with the eraser tool.
Step 2
Now you should have a nicely cut out section of statue to work with. Duplicate your layer at this point, so if all else fails - you can revert back - and don't have to cut the damn thing out again!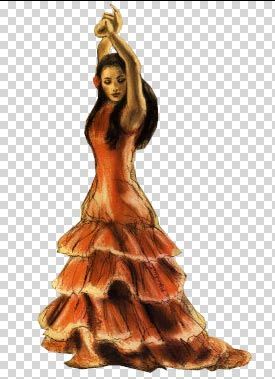 Step 3
Desaturate the image (Image > Adjustments > Desaturate). Even if you are going to have coloured lights going through your model, start with a clear, b&w 'render' of your glass sculpture.
Step 4
CURVES!
(Image > Adjustments > Curves)
Curves allow you to control the tones and stretches or compresses them based on the surrounding tones. Sounds confusing hey. The way I look at curves is an advanced Brightness and Contrast tool :P it may be a technically incorrect thought progression, but that's what I use it for. Use curves whenever you want to give something a chrome, or glassy finish.
The way you tweak your curves is going to depend entirely on the complexity of your piece. Just fiddle with the graph; and you can preview the output in realtime. If you're not happy with the output - start again.
The trick I find with glass in particular is that it'll have areas of extremem bright, and extreme dark right next to it. Don't go overboard with the 'extreme' - you still want a bit of blending between the two. Even if it's too dull or grey to be glass yet - it's the tone you're going for.
Step 5
Brightness/Contrast.
(Image Adjustments > Brightness/Contrast)
Now you've got the right balance from the curves command, tis time to Contrast the bejesus out of it. A bit of brightness will help, too.
Step 6
Fix the black bits.
I fix my black bits by whipping out trusty-old polygonal marquee tool again. Select an area of particularly rich darkness, polygon-lasso it and invert the selected area (Image > Adjustments > Invert).
Be careful you select only dark entities, and not simply shadows. You'll need shadows to give your statue a realistic depth. For example, in the below - the hair was inverted, but the shadows on the skirt were not.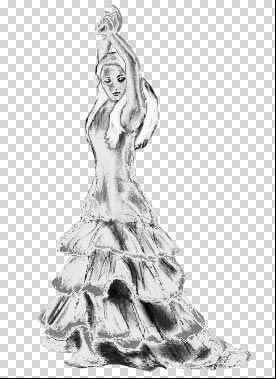 Step 7
Neaten up any 'speckled' edges.
This usually involves a combination of steps.
1. Reduce noise (Filter > Noise > Reduce Noise)
2. Manually smooth them over using blur, or smudge.
Use a small brush size for this - you don't want to lose edge definition, just smooth out the spots. Only use if necessary.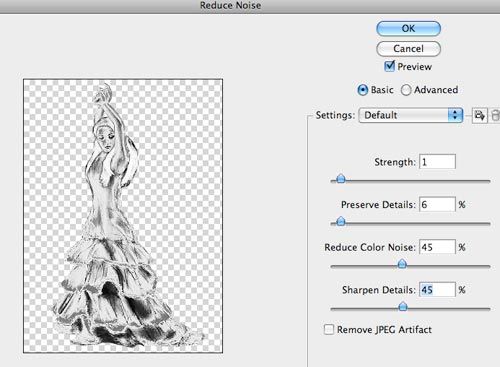 Step 8
Plastic Wrap.
This can look great, or terrible, depending on your source image.
For the most part, take your detail and smoothness right up, and play with Highlight strength. The trick here is to lighten and smooth out those edges.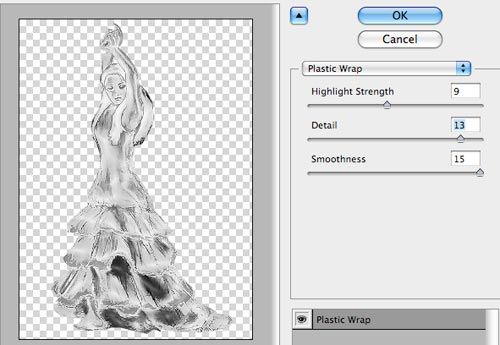 Step 9 & 10
Dodge in any extra highlights. I usually use a bigger brush size than the area I want to dodge, just to give it a more blended effect around the edges. Go back to your Brightness/Contrast settings. Contrast up a little; brightness down a tad.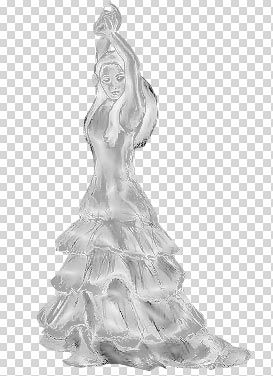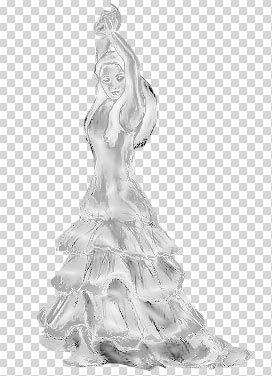 You'll probably find from now on, you'll constantly adjust the Brightness and contrast, to get the look you want, as you add any additional elements or effects to it.
Step 11
Duplicate the layer to an image that you want to use as a background. Duplicate it again (so you have 2 x the statue layer on your background image).
On the lower of the two layers, set the opacity to around 20-35% for now.
On the upper, set the:
General Blending options mode to Overlay.
Tick Inner Glow. Change the colour to White, the Blend mode of the outer glow to Lighter Colour and it's opacity up a tad.
Tick Outer Glow. Change the colour to White, the Blend mode to Overlay and leave everything else default.
Step 12
Curves again! Thanks to the Overlay on the top layer, the curves will do some really nice (/wacky?) things to your top layer this time. It really starts to look like glass. To make it lighter or darker this time, edit the opacity of your 2nd (lower) layer to suit.
As mentioned before - at any time during the creation now, feel free to toy with your brightness/contrast, and curves, further, to achieve the desired results.
Step 13
Creating the base; just create a grey rectangle. Plastic wrap or add some small lens flares to create some spots of shine. Then edit it's Blending options.
Set;
General opacity to 90%
Inner Shadow: Blend Mode - Multiply, 75%, #7a7d75 colour - distance 5, choke 5, size 2.
Bevel & Emboss - Inner Bevel, Chisel Hard, Up direction, Size 21 soften 0. Highlight modes both changed to Normal, in a light and dark grey.
Satin - Blend Mode Multiply, 70%.
Step 14
Duplicate this base layer. Transform it (so it's slightly larger horizontally). You should just be able to see the smaller (original) rectangle in the background.

Step 15
Find a slightly marbled black and white texture, such as:

Add it at the same size of the larger of the two base layers, above both of them (transform if necessary to ensure it's the same size as the larger rectangle). Set it's opacity to Overlay, 20%.

Step 16
The next part is all about making the base look like it's 3D and putting the glass statue 'on' and reflecting on it.
Create a layer that's below the statue - but above the base. Polygonal lasso an area that goes up at an angle from the base and colour it one of the darker greys from your base (use the eyedrop tool to get a similar colour).
Set it's Blending mode to Screen. Transform again if required (I tend to use transform a lot when I'm illustrating with polygonal lasso :-/ ).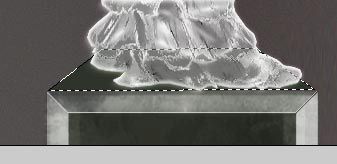 Step 17
Reflect the statue in the base.
Duplicate the lower of the two layers (the one that's simply had it's opacity altered). Transform it and flip it vertically.
Move it, rotate it and skew it (using Transform - right click 'Skew' option) so that the extents of the lower sections of the sculpture are touching the reverse.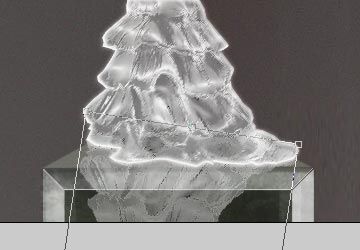 Step 18
Select one of your upright-layers of your scupture. Magic wand the area outside of it.
Reselect your reflected layer. Ctrl or Command+Shift+I to select the inverse of the previous magic wand selection. Delete.
Rectangular marquee away the rest of the reflected statue that's intersecting the main front beveled base.
Set a motion blur of say, 3, in the 90 degree direction.
You end up with a small layer, of a very slight section of your glass statue - but it's all you need to get the reflected effect:
Step 19
Match the colours of the base and the statue. Eye drop a colour from the base, then Adjustments > Hue/Saturation. Tick Colourise. Wind your Saturation down (but not to 0), and tweak Lightness as necessary.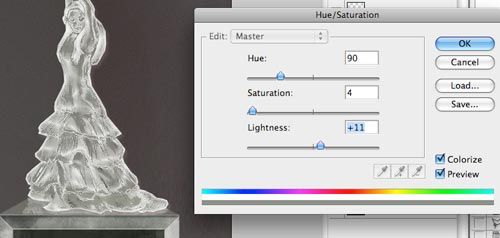 Finally: LIGHTS! And this comes down to personal preferences.
The glass will look like glass ultimately if light refracts it in interesting ways.
Best way I found to do this is;
- Mess around with some lights (Filters > Render > Lighting Effects)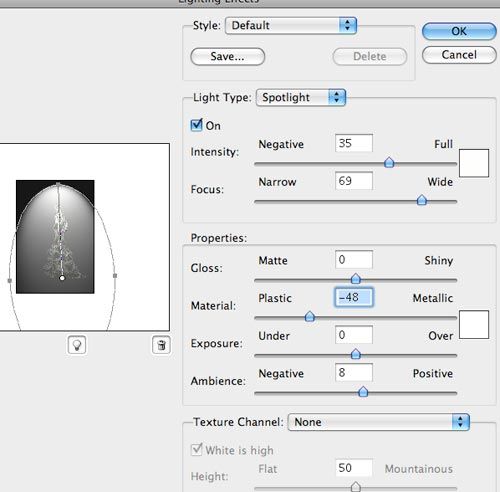 - Play with Brightness/Contrast again.
- add a series of small, white-coloured lenz flares (Filters > Render > Lens Flare)
I also love playing around with light-effect paint brushes.
I've downloaded some great ones from here:
~Link~
Create a new layer, set your brush to white and apply lighting - a small, white star, in a few of the areas that you have a bright white area on your glass statue.
This'll give the effect that it's not only casting white light but actual shininess :)
The smaller the brush, the nicer the effect, usually.
The finished statue:
More Notes:
- If it's not looking 3D enough, try plastic wrapping the top of the two statue layers again.
Then up the opacity further on your lower layer of the model.
Let the lower layer control the definition/shape, and the upper one the texture of the glass.
- If you start a little er...over ambitiously, with a sketched/rough drawing, blur out the final pencil-y sharp lines using the Blur tool, on the lower layer.