[act]The lights flicker again, and everyone pauses awaiting the power out that's sure to follow....everyone that is, except the three hostesses[/act]
Firefall: I believe that's our cue. [act]Gives a thumbs up to the s*c*p standing next to the light switch[/act] Are we ready?
Deb: [act]whips a microphone out from sleeve[/act] I'm ready ;D
Ari: Oh Lud...where'd I put that list [act]searches the area around her[/act]
Dean: You mean this list? [act]squints at note[/act] Ari's plot to take over the world, step one, wait until no one is looking-
Ari: [act]Snatching note[/act] Not that one. The other one with the [act]lowers voice[/act] important presentation stuff on it.
Jack: You mean this piece of paper with 'Important Presentation Stuff' written on it?
Ari: Yes! That's the one :D
Dr Horrible: [act]still scrubbing at texta marks[/act] How original......
[act]The Hostesses make their way up onto a make shift stage, that just happens to be a couch[/act]
Deb: Can we have your attention please!
Firefall: Before the After Party wraps up, thus ending our festivities for another year, we have some presentations to make.
Deb: We would like to begin by announcing the winners of the various competitions we had running throughout the ball.
The winner, or should I say winners of the
Scavenger Hunt
are:
Aoife
and
Kaede
The winner of the
Writing Comp
is:
Arwen
And, in another tie, the winners of the
Movie Puzzle Comp
are:
Blackbird
and
Ticy
Congratulations, you five have earned yourselves and your guilds some shiny new guild points :D
For anyone wondering what the answers were, they will be posted in the commenting thread.
Firefall: Now, Ladies and Gentlemen, we are going to present a few awards to a select few participants for this year.
We will begin with the
Best Dressed Award
, which this year goes to......
Ari:
Angina!
Deb: And by proxy, we give this crystal award to Sionainn for getting him in that outfit to begin with :D
Firefall: Our next award is the
Most Entertaining
, which goes to.....
Ari:
Sian!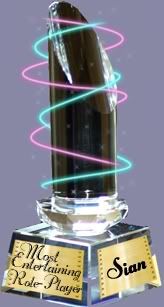 Firefall: Next up we have the
Most Creative
award, which goes to a certain person for a side trip to the library, who happens to be.......
Ari:
MK!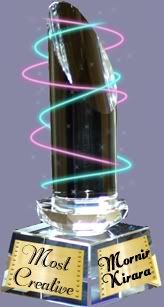 Deb: And the next award, Best Couple, goes to.......
Ari: KaAAAAAAH! [act]Ari falls of the couch with a loud thud. There is a stunned pause before Ari's hand becomes visible again, the Award still in tact in her plam[/act] Awards fine! It's aaaalll good! [act]muffled groan[/act]
Deb and Firefall: ::)
Deb: The award for
Best Couple
goes to.....
Kaede and Anyi!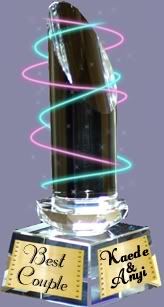 Ari: [act]Climbing back up onto the couch[/act] The next award we would like to...ah, award, is the
Geology Award
Firefall: The award goes to the person we though had the most interesting crystal offering in the entrance, which included one lost looking woman named Krystal, and a Potato Gem.
Deb: And the winner is....
Smuppet!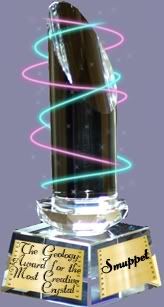 Firefall: Next we have the
SCP Award
for good behavior, which goes to.....
Deb:
Bibliophile!
s*c*p : Quark! :D
Ari: And last but not least, we get to announce the winner of the
People's Choice Award
, as voted by you!
Dr Horrible: [act]Stops scrubbing face[/act] Me?
Ari: No...You! [act]Indicates crowd[/act]
And the winner is......
Deb:
Firefall!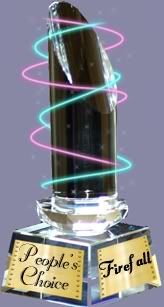 Firefall: Bwaaahahah! The Power is MIIIIIIINEEE!! [act]Notices crowd watching her[/act] Ah...I mean, Thanks! |:|
Deb: And that concludes the awards presentation for this year! We would just like to thank a few people before we go.
Thanks to
(In no particular order):
ElspethInnle
Deb
Min
Firefall
HeartoftheDarkness
Ari
Bananamonkey
Maz
Agyllian
Lioness
As well as everyone else who helped out during the plotting stages in the Cavern, and those who helped out during the ball itself, no matter how big or small the gesture :D
Firefall: We hope you enjoy the last few hours of the Party!
Dr Horrible: [act]rubbing harder at the texta marks[/act] I'm going to need like 50 lemon baths to get this off my skin :|