Like Sian said, these both look great, but I particularly like the angry one. Reminds me of the scene where she's protecting the kids from the Herder . . . either or she is about to kick Matthew for being a jerk. :nods:
Hurrah, for your tablet, Sian, and I'd hardly consider it failing. You have abetter understanding of hair than I do, that's for sure.
I think you can probably still get ringlets without having to draw each individual one. It's just a matter of simplifying the shape down, though I guess anything with with lines is basically that so . . . yes, redunadnt info, Shonk, moving one.
Personally, I draw curly hair by combing an overall shape and a line shape.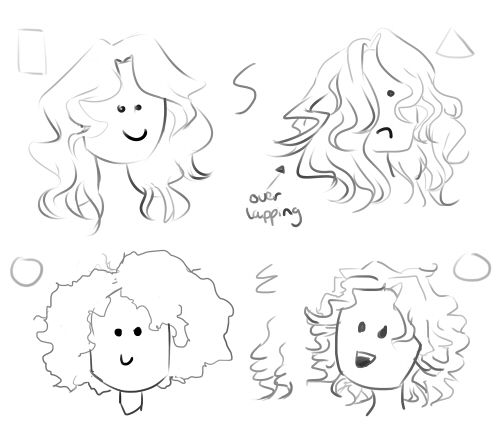 Wavy hair, like you have portrayed, Min, will basically just be S shaped lines in an overall kind rectangular/square shape since wavy hair doesn't tend to change too much in volume as it falls.
Curlier/wilder hair is again just s shapes (though probably a bit sharper and tighter) in a more triangular overall shape as the curls get tangled up and push the hair out as it descends. To add a wilder look/more volume, just start overlapping your S's.
Super tightly curled hair/afro is the easiest cause it's basically just a wiggly line in the shape of circle or well . . . any shape you want it to be really.
Then finally for more ringletish/tighter curled hair you can kinda cheat by using a continuos 3 shape for your lines in a more overall circular/sqaure shape as the ringlets pull the hair up and make it appear shorter.