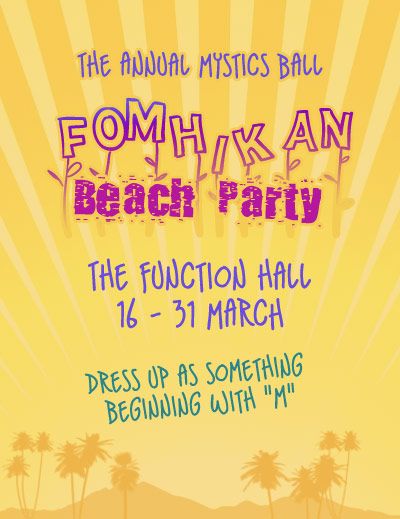 A small shelter sits in a clearing next to fragrant vegetation. A sandy path leads away from the exit on the far side, just visible past the vines and flowers growing over the wooden frame of the gazebo style structure. That path must lead to the ball....but before you can pass through, there is the small matter of the Guest Book and quill set aside on a table.

Welcome to the Mystics Ball entrance! Please introduce yourself and your date, and give us a little insight into your choice of costume.
We hope you have a Magnificent and Memorable time at this years Ball.
Your Hostesses this year are ElspethInnle, Ariadne and Deb.
Blind Dates will be allocated from a pool of IC book characters. All dates are randomly selected and no changes will be made. You must accept the date you have been allocated. (Latecomers can request a date but it's better to get in early (we've been known to run out.) You must arrive at the ball with the date you have been allocated and spend at least some time with him/her before you try to ditch them or steal someone else's date. To request a Date for the ball please reply in this thread with your name and gender as we don't always know if you are a guy or a gal. (You will receive the name of your date via PM in early March to give you time to 'dress up' your avi and sig. Please keep your date's name to yourself until you enter the Ball.)
Please note that only allocated dates and specially invited guests will be permitted at the ball. Please do not introduce any other characters. Posts introducing other characters will be deleted by one of your lovely hostesses.
Please Note:
ALL POST MUST BE KEPT PG.
That means:
1/ there is to be no underage drinking.
2/ any *cough* 'interactions' with dates that violate the PG rating will be revised or deleted.
This event is to be accessible to every member of Obernet. If you read something in one of the threads that you feel violates the PG rating of the site, please report it to one of the Hosts.
Have fun and enjoy the warm weather.
*scp*: There is to be NO Plantsinging by unqualified persons. Harm to any plant on Fomhika is punishable by law. Offenders will be sent to Ramidan to work for Tarsin.