Hello Novelists, Poets, Lyricists, Playwrights and all manner of Authors.
Welcome to the Word Weaver Award.
With the New Year, we have decided to make a few changes to the way the Word Weaver Award Works
(how's that for alliteration)
. The All New Award is actually still the wonderful old award designed by Ariadne, but it is now up to you...YES YOU!...to nominate and vote for the recipient.
The writing that is voted the winner will then become the 'Featured Writing' for the month. It will be highlighted in this thread and the Author will be provided with an award, which can be placed in the person's signature should they so wish it.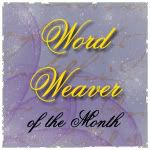 ALSO
The Author's name and piece may be published in the Moonwatcher, Ober.Net's monthly newsletter, in the Featured Writing section.
"Fill your paper with the breathings of your heart." ~William Wordsworth
We look forward to presenting work from our fabulous writers here on Obernewtyn.Net.
To nominate a writer or piece of writing for the Word Weaver Award, please PM one of your lovely Mods ~
Deb
or
DargaFleas
~ with a link to the nominated item.
Be advised that there will be months where no nominations are received. If this is the case, the award will go un-awarded (or maybe the Mods will choose one).
Work may also be nominated/selected from Prodders, but no link to the work will be provided to the piece. (Due to the board being a members only board.)
Jan 2013: Dakosha.
link
Feb 2013 Loren
link
March 2013: Arwen
link
April 2013: Bibliophile
link
May 2013: Sionainn
link
June 2013: Larana
July 2013: Ariadne
August 2013: Loren
link
September 2013: Dakosha
link
October 2013: Sionainn
November 2013: Kaylan
link
December 2013: Nef
link
January 2014: Vestie
February 2014: Katie
link
March 2014: Sionnain
link
(Prodders)
April 2014: Wraithking.
Link
(Prodders)
May 2014: Kaylan R
link
(Prodders)
June 2014: Sionnain
link
(Prodders)
July and August 2014: Arctic Firefox
link
(Prodders)
September 2014: oops
October 2014: Vestie
link
(Prodders)