It seems impossible to me that I ever existed as more than a breath of wind, more than an afterthought. I tumble around, buffeted by invisible forces, with no more ability to control my movements than a leaf in a stream, and scarcely more inclination. I have no form or substance, like a mote of dust. I am barely even aware of myself, only aware enough to know I should be otherwise. For the longest time this is my entire existence.
Then, as if it had always been so, I am in a line; a long, undulating line that bends endlessly in both directions. Before I can stop to remark upon the fact that I have form again, it seems perfectly natural that I do. I let the thought slide aimlessly out of my mind and it is forgotten immediately. Looking around the line I observe that it hardly deserves the name. For one thing, it is unclear which way represents the beginning and the end of the line. People seem to be facing in both directions without much of an idea why. For another, there seems to be no movement, and I have the sense that the line has been stationary for a while. I try to work out how long the line has been stationary, but my sense of time is nebulous and wafts away like a cloud when I try to pin it down. Some far flung part of my mind suggests that all this strangeness should concern me, but the emotion is a colourless thing that barely touches me.
I peer around the line, vaguely curious about my companions in waiting. Behind me is a middle-aged woman, her hair clustered in tight curls around her head. Catching her eye, I smile at her. Encouraged by my smile, she leans forward and asks me what I think of the queue. I reply that it seems like we will be here for a while.
Her response is strange. "Well it is better than the alternative".
"The alternative?"
"You know dear, nothing."
I stare at her with no comprehension.
"Don't worry, you'll hear about it soon enough." With that she turns, and resists my attempts at further conversation.
I find that I don't really care about this either. It is strange, the traces of irritation and confusion that I should feel don't come. My mind expects them, but other than being conscious of their existence, I am untouched. Even my curiosity, which I am sure should have been aroused, is flat and diluted. I am aware of a light flickering, somewhere in the deep recesses of my mind, but it is so small that is barely cuts through my placidity.
I try to think why I might be in this strange place with its static line, but anything outside of my current experience is a fog. I am aware of the fact that I can't have been here forever, that I must have been doing something before, but the effect of all these thoughts is soporific rather than concerning. I try to focus myself but my thoughts lightly trip across my mind without making an impression. Giving up these fruitless attempts at governing my thoughts, I instead look aimlessly around me again. In the course of this general survey, I encounter the gaze of the man in front of me. He is an elderly, fussy-looking gentleman and the way he peers at me puts me in mind of a turtle.
"Been here long?" I ask him conversationally. I don't really care, but it seems like something that one should say.
To my banality he merely shrugs his shoulders.
Nodding towards the stationary line, I ask, "Has it moved at all since you've been here?"
He looks at me strangely.
"You're in front of me"
I consider this.
"Well, I don't remember it moving."
He shakes his head disapprovingly at me.
"Well then, you have your answer don't you?"
Again, I find myself shifting dreamily away from the conversation and the old man seems to feel no interest in continuing it either. Again, it occurs to me that there is something deeply unsatisfying about this exchange, but this knowledge is cognitive rather than emotive. Whatever feeling belongs with these thoughts, they are curiously absent.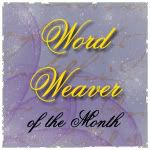 Word Weaver February 2011